Located on a peninsula at the most southern point of the Australian mainland and stretching across the lands of the Gunaikurnai, Bunurong, and Boon Wurrung Traditional Owners, the park is one of Victoria's best loved.
It's home to a rich variety of native plants and animals. It offers remote and spectacular bush trails, pristine beaches, and one of the best marine national parks in the country. It also has a number of sites of cultural significance and offers adventure for all ages.
But even better things are on the horizon.
The Wilsons Prom Revitalisation Project will turn the park into Victoria's largest conservation sanctuary.
The project will create a 10km fence to keep invasive plants and animals out of the 50,000-hectare park.
Project works will also improve Wilsons Prom for visitors. New facilities and accommodation will be built. A new trail will connect Tidal River to Mount Oberon. Parking, traffic flow, and signage will also be improved.
As part of the Victorian Government's Visitor Economy Recovery and Reform Plan the government is contributing $23 million to the project from the Regional Tourism Investment Fund - Flagship Round, which will be delivered by Parks Victoria. It will protect the Prom's wildlife and create a more sustainable tourism experience.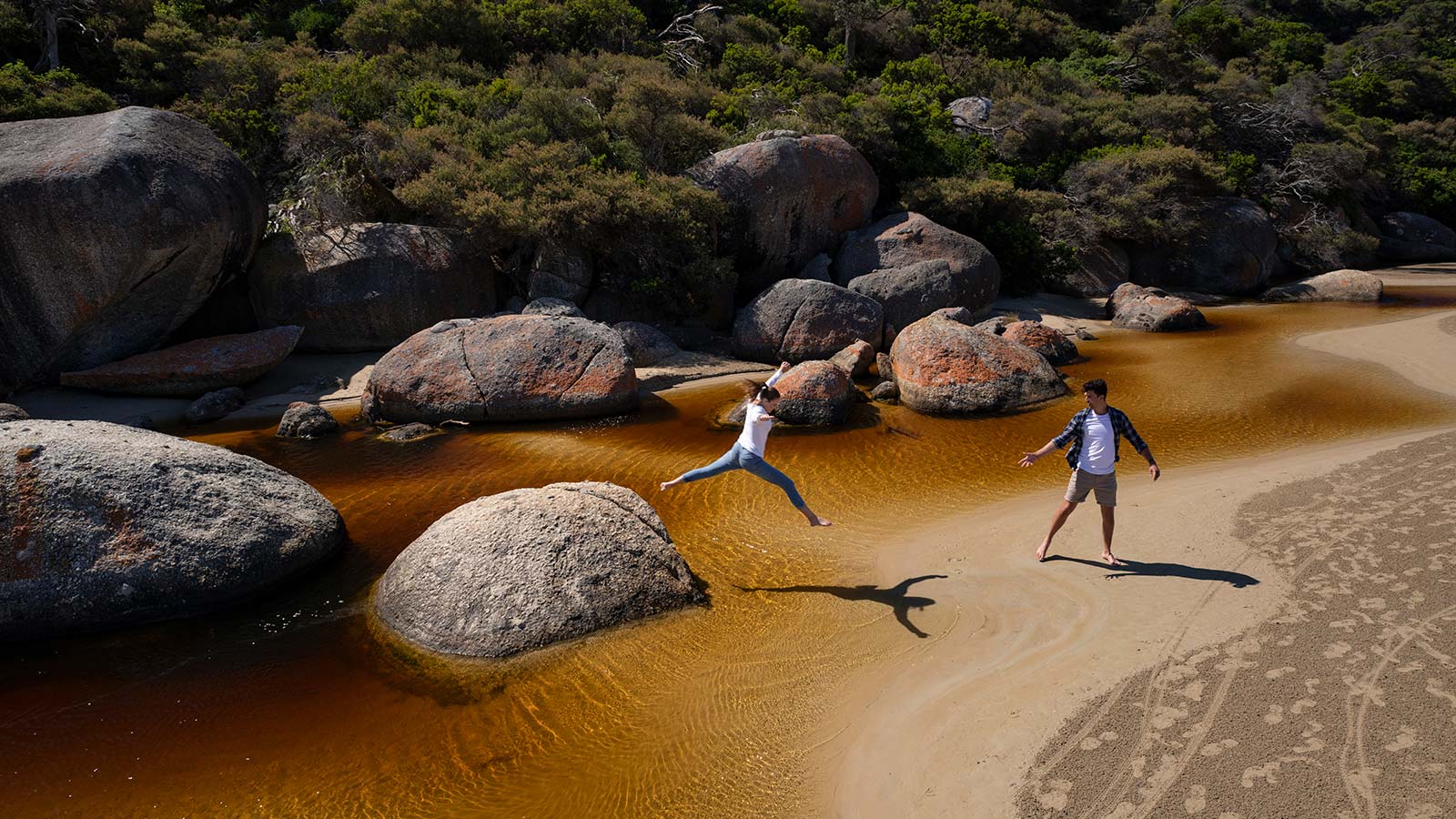 Protecting our natural treasures
For Dr Mark Norman, Chief Conservation Scientist at Parks Victoria, the Prom is a natural treasure that must be protected.
"It has these amazing ecosystems, from the top of mountains to the 90-metre-deep waters off the lighthouse," he explained.
"It ranges from sandy beaches, mangroves and salt marshes to areas of grass tree plains, rich forests and diverse heath plant species.
"There are many animals living amongst these habitats," he added.
Unfortunately, the area is under threat.
Invasive animals like deer, feral cats, and foxes are disastrous for native wildlife. Pest plants like Coastal Tea Tree and White Kunzea are destroying habitats. The impacts of climate change are increasing bushfire risk and extreme weather events.
Dr Norman and his team are grateful that the Prom has a natural advantage to help manage invasive species. The peninsula is only connected to the mainland by a narrow strip of land, known as the Yanakie Isthmus, where they will build their predator-proof fence.
"We're trying to prevent the constant reintroduction of invasive species."
"It's pointless to eradicate the ones in the park and then let the next lot walk in," Dr Norman explained.
For Dr Norman, this project is an opportunity to give nature the best chance of thriving.
"We are talking about setting something up for decades or centuries of protection for our native plants and animals," he said.
Revitalising tourism at the Prom
The Wilsons Prom Revitalisation Project will provide an important boost to this already unforgettable coastal wilderness destination.
A more welcoming experience will be created from improvements to the visitor centre and area around busy Tidal River, including an all-abilities Changing Places block. New and upgraded walks and accommodation options will also help more visitors stay and see more of this special landscape.
The project will also create a more sustainable mindset from the moment visitors first enter the park through the predator-proof exclusion fence.
"Your thinking should change as you pass through this threshold," said Dr Norman.
"You should think about what's in the best interests of nature within this park, and what you can do to join that conversation or program," he said.
"This project will provide a strong reminder to people that this is a place where we really care about health of country.
It's a place where we work to improve the fortunes of our native plants and animals.
Page last updated: 28 Aug 2023