Published: 30 October 2023
Two new arrivals in the Ballarat bar scene are set to play a key role when the Melbourne Food and Wine Festival goes regional this November.
Showcasing the best local produce and cooking talent, the festival is packed with events that will attract foodies to the regions from 10 to 19 November.
The iconic World's Longest Lunch is taking place with coinciding events on Saturday 11 November at the Goods Shed in Ballarat and Hubert Estate in the Yarra Valley.
The team from The Goods Shed's newly opened distillery, Itinerant Spirits, will provide drinks for the lunch. They'll be showcasing signature cocktails, all distilled using locally grown and malted grains and local volcanic spring water.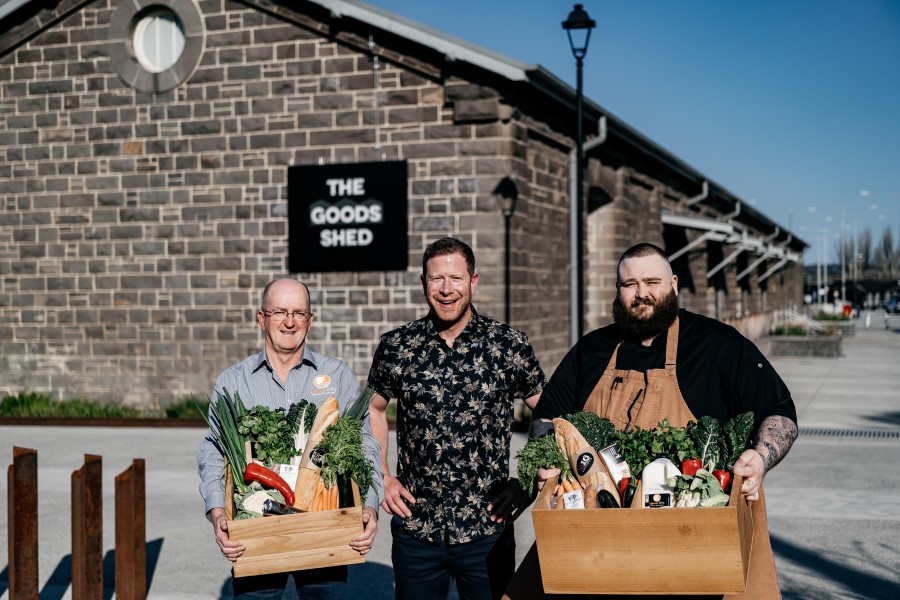 The World's Longest Lunch makes its Ballarat debut in November. Pictured left to right: Gerry Leonard from Inglenook Dairy, chef Tim Bone and chef Konstantin Putkin.
Itinerant Spirits co-founders Brad Wilson and Craig Ryan said having events like the Melbourne Food and Wine Festival take place regionally is important for the area.
'It allows locals - and visitors - the opportunity to experience what world-class chefs in capital cities create with produce and flavours from in and around these regional hometowns,' Brad said.
The pair are excited to feature a 'grain to glass' concept with their drinks during the lunch. As Craig explained, 'We use locally and regionally sourced ingredients to produce our spirits including grains grown and harvested in the Wimmera and Mallee regions of western Victoria and malted right here in Ballarat.'
Meanwhile, new Ballarat distillery and bar Grainery Lane will match their craft beers with a 4-course dinner, as part of the festival.
The craft beverage maker opened in August thanks to a $450,000 investment via the Regional Tourism Investment Fund. The Government also supported Itinerant Spirits to open its doors in October, cementing Ballarat's position as a must-visit craft and small batch drink destination.
Food and drink is one of the key priorities of Experience Victoria 2033, which aims to ensure Victoria maximises growth opportunities in the visitor economy over the next 10 years.
The Melbourne Food and Wine Festival is supported by the Victorian Government. Learn more and buy tickets to the Melbourne Food and Wine Festival.
Page last updated: 30 Oct 2023